This SmartFi review is the result of a discussion I had a couple of days ago with a friend regarding the DeFi industry. I decided to take a closer look, particularly at SmartFi loans. He asked was Smartfi a scam? Bitcoin was the first cryptocurrency, thousands have followed. New "sub" industries such as NFTs and DeFi have risen to the forefront of the fintech industry. This is a result of the difficulty in regulating these new technologies. They are so different from what we are used to, that new legislation is required to effectively regulate the space. This situation results in many scams and rug pulls.
This Review is made up of sections covering the basic who, what, where, why, and how. Use the index below and jump straight into the content you are interested in.
Our SmartFi Review Covers the Company, the Products and Services
So what exactly is SmartFi? It is a Cryptocurrency based platform offering decentralized finance products and services as well as centralized exchange services. The main offering appears to be a FIAT loan offering backed with crypto. They also have a token, which as far as we can tell, works as an "investment in debt voucher". In other words, they have tokenized their debt book (loans they have given out) sharing the risk, but more importantly also the rewards(interest earned on the loans). Regular people can now buy the token, which effectively lets an ordinary Joe become a lender.
Products
SmartCYCLE is in my view the main product on offer. In summary, it is a utility token that allows a user to effectively fund the loan book and earn via a forward price mechanism. As the price of SMTF token increases, the amount of SMTF required to fund the increasing loan demand is reduced. The result is a deflationary effect. The token has less volatility risk due to this model allowing for a 100% buyback possibility at the original price. This is also what enables SmartFi to provide a buyback guarantee.
SmartLOAN is a Nexo/BlockFi type product. SmartFi loans allow you to borrow against crypto assets and as a result, get liquidity in US dollars in a matter of minutes. SmartFi loans are available to verified users. Furthermore, it is subject to restricted jurisdictions. To note, SmartLOAN is not available in the states of Texas and New York at this time. The platform currently accepts Bitcoin and Ethereum as collateral with the minimum amount for a SmartLOAN at least $1,000 worth of crypto.
Services
SmartSTRATEGIES seems to still be in development and is not currently (09 Feb '22)available to the public. The basic premise of this product is that you will be able to select an automated strategy. The platform will then execute inside the SmartFi eco-system when a set of parameters are matched. I am not crazy about this approach although there is nothing inherently wrong with it. I would prefer to see a service like this that connects to 3rd parties and allows you to execute strategies on the whole of the market.
SmartEXCHANGE is a centralised cryptocurrency exchange(like Binance, Coinbase, Kraken etc). They offer multiple trading pairs. They have Market orders, Limit orders and Instant buy functionality with all the basic components you would expect from an exchange. It comes across as a white-label offering, and I am not clear on whether it is simply a hosted product that is operated by another company or if they run the exchange themselves. Fees for most trading pairs are 0.5% using a maker-taker model (not sure why, as both sides pay the same), which is very high for this type of service.
Why I would focus on SmartFi Loans if it were me
Either way, I wouldn't clutter the business with an exchange trading option if I were them. Firstly, unless you operate at the level of Bitstamp, Binance or Kraken, there isn't much profit in trading fees. Secondly and more important is that trading platforms are a honey pot for scammers and hackers. The level of risk when operating an exchange shoots through the roof. I would simply offer a Changelly or Shapeshift type service as a value adds for customers. They appear to have this type of offering through their SmartTrade option. However, SmartTRADE looks to be connected to SmartEXCHANGE.
SmartTRADE is a simple option to Buy or Sell a token. No charts, order types or any funny business. This is very similar to the "instant-buy" options provided by most exchange platforms. Most platforms charge a lot more commission for this type of service, but I was not able to find much info on the behind the scenes operation of this product. Consequently, I am not able to establish if the fees are higher when using SmartTRADE as opposed to SmartEXCHANGE.
Incentives
The company has a referral program that has 3 tiers rewarding advertisers/affiliates with 10%, 5% and 2.5% respectively. There is nothing sinister about this, but I would get rid of this if I were them. The industry standard is a one-off $5-$20 payment for each signup that actively trades.
The problem with the tier trading commission structure is that it reeks of multi-level marketing/network marketing. As a result, some may question if Smartfi is legitimate? It is sort of offering something that sounds good in theory but in reality, it stinks. To illustrate this I will do a calculation that will show why it is not a great incentive.
Example
To earn $10 in referral commission it would require the person being referred to trade $20k. How many people know people that will go and trade $20k worth of crypto? These people do exist, I won't deny that. However, they more than likely already trade on the big platforms. What will make them use SmartFi instead? So unless you already have a huge following on social media or other types of audience, you will never really see a return. If you do have a big audience, then more than likely, you are already being paid upfront by big advertisers. For example, MMCrypto on YouTube promotes ByBit.
$20 000 * 0.5% = $100
$100 * 10% = $10
An incentive yes, but this is never really going to set the world on fire and in my view is more of a distraction. It is not clear whether the referral fees apply to more than exchange trading activity (SmartFi loans or SmartFi strategies).
The Unique Selling Point
I can't be certain of this but it does appear that SmartFi is more geared toward institutions than individuals. This is just a gut feel but would make sense given the history of the founders and the path that led them to the position they are in. I am not excluding general loans to individuals (the minimum loan is something like $1000 worth of crypto so not much at all). I simply think they have a better avenue with corporate loans and investments.
The SmartFi Token has a 12month buyback guarantee and is the main end-user offering. Allowing individuals to effectively fund a loan book.
So Who Are the People Behind SmartFi?
SmartFi(I do like the name) is a trading brand of Power Block Coin LLC. (PBC LLC) which was founded in 2017. Power Block Coin provide electricity to bitcoin miners as well as offers credit, becoming a non-bank lender in 2018. Blue Castle Holdings is the parent company of PBC LLC.
CEO and co-founder, Aaron J. Tilton has a background in commercial energy development and purchasing. Furthermore, he is also a former Utah State Representative.
Tom Retson, COO and co-founder is a nuclear engineer with more than 2 decades at GE Nuclear Energy. Mr Retson, like Mr Tilton, got involved with crypto due to the huge demand for electricity required by mining.
Banking partner appears to be Signature Bank in New York going by the deposit instructions on the FAQ.
I could find very little online in terms of in house technical staff on social media platforms. SmartFi likely outsources much of the technical operations.
Location, Location, Location
SmartFi have their address listed as 1145 SOUTH 800 EAST SUITE 117, OREM, UTAH 84097.
You can access the platform via a standard web browser at this URL: www.smartfi.com. I think the brand name and domain name is probably the biggest asset for this company as it is perfect for the DeFi space. A mobile application is likely still in development as there is none available on the major app stores at present. Going by the target audience this is probably a lost marketing opportunity. I would expect to see an APP store presence imminently.
Power Block Coin LLC is registered as a Money Service Business ("MSB") with the Financial Crimes Enforcement Network ("FinCEN") under the registration number 31000178271453. This is not the same as an actual license but it goes a long way to making SmartFi legitimate.
Registration
I was unable to register due to some sort of connection error that persisted over the last week. I am guessing there is some sort of GEO / ISP related funnel, restricting the product to local networks/ISP's. This is probably not one of the best approaches to achieve a ringfenced solution but I am purely speculating at this stage. It is most likely some sort of regulatory restriction.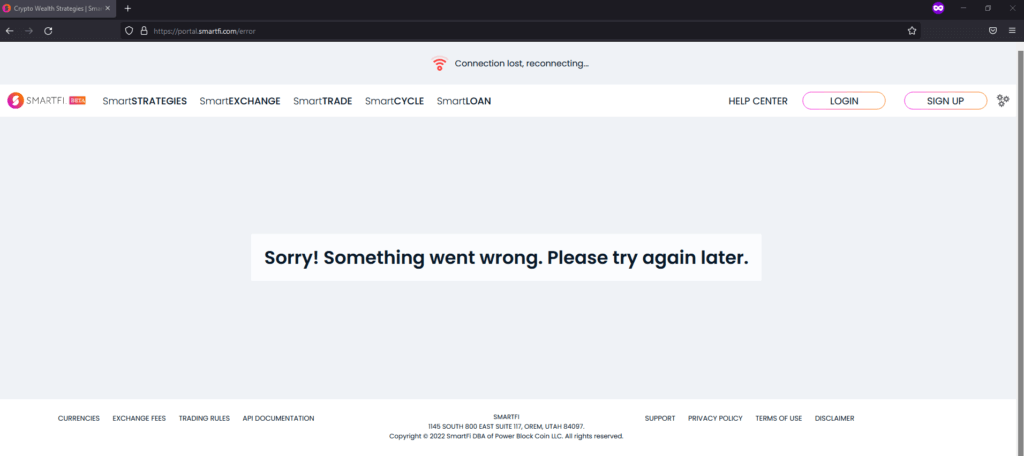 Login
Unable to login as the platform seems to have a localisation mechanism. I haven't bothered to look into this further but have reached out to the company.
Deposit and Withdrawals
The platform allows for the deposit and withdrawal of FIAT and crypto. Industry-standard fees apply to crypto withdrawals and there are no deposit fees for FIAT or CRYPTO. Notably, there are no FIAT withdrawal fees which are always a bonus.
SmartFi Exchange
I have not been able to try the exchange but expect it to work pretty similar to a white label exchange like ShiftMarkets have on offer. It appears to be a turnkey solution based on the limited functionality compared to what is available on platforms such as Binance or Kraken.
SmartFi Loans
I do not have access to all the options available. However, as an example, they will offer a 1 month loan with a LTV of 20% at an annual SmartFi interest rate of 48% which some might say is quite steep. ($1000 + (48%/12) = $1040 to be repaid after a month). I found this example on the FAQ and it may be an example and not the actual rates on offer. A 6month SmartFi loan with LTV of 50% and APY of 10.5% will cost you $262.50 over 6months according to another example. It would be great to see a table with the SmartFi interest rate options or even for the estimator to be available without logging in.
MARKETING
The SmartFi team seem to have covered all the bases in terms of social media which is a big part of crypto marketing activities. Customer support itself is a massive marketing tool for companies because crypto is not something the average Joe understands or has a lot of experience with. There are more than 10 social media channels listed and we had a quick scan through. The majority of content seem to be fairly generic and not much in terms of customer engagement. The social media team mostly funnel support related queries back to the service desk. This is fairly standard.
A major marketing avenue seems to be some sort of collaboration with the AMA Supercross Championship. This has most likely happened as a result of the CEO, Aaron, being an avid motocross enthusiast. Being the "official crypto platform" of a motocross series doesn't make sense to me as I am not sure what crypto requirements they may have. Regardless, I am always happy to see crypto companies represented in traditional advertising roles. I would probably prefer to see "official sponsor" rather than "official crypto platform".
Our SmartFi Review Conclusion
Is it Low Risk? Of course not. Nothing in the Cryptoverse is. If you are looking for low risk, put the money under your mattress. All you need to worry about then is the housekeeper, backpain and inflation.
I would class this as a high-risk option (along with pretty much most of what's happening in the world of crypto). Are there better opportunities? It all depends on whether you are looking to buy the token or if you need a SmartFi loan.
So is SmartFi a scam? At this stage, I do not see it as a scam or think it is dodgy. Furthermore, I don't think anyone buying into this business suffers from Ethan Hunt Syndrome either.
You must NEVER invest more than you are prepared to lose, all crypto-related opportunities are risky.