G999 is the brainchild of Josip Heit (née Curcic). Furthermore, it is the native token for the Gold Standard Bank (GSB) Blockchain. The Gold Standard Bank Blockchain itself is a fork (modified copy) of PIVX. The Gold Standard Bank is not a bank as they do not have a banking license. Gold Standard Partners (GSP) is the "marketing" department of GSB. Nobody has been able to figure out why they use the word "Bank" in their name.
Could it be to fool people into thinking they are a bank?
My interest in Gold Standard Partners was initially more focused on the token and why I hold a negative view of multilevel marketing. My first video review of their sales techniques received a lot of attention. Josip Heit and company also took notice and promptly sued me for defamation. This was a red flag and the first sign that I was on to something much bigger, so naturally, I started digging more.
In this post, I will attempt to cover the following topics
History of G999 and the Gold Standard Partners
Before G999 there was KCB or KBC, it all depends on who you want to believe but ultimately KBC/KCB is the same thing. It was/is/will be/may have been/could be the digital token for Karatbars. The leaders seem to have ported the majority of players/promotors in G999 from Karatbars. There are rumours in the community about a secret "Karatbar MLM leadership council" meeting (with NDAs and all) where they planned these shenanigans. According to a live Facebook stream by Ricardo Hamilton, Tammy Morrison – is one of the few "in the know at Karatbars" who decided not to come over to G999.
Whilst every effort has been made to try and distance GSB and GSP from Karatbars, there is simply too much evidence to the contrary. You have to ask yourself: Is G999 simply a reboot of the Karatbars Pyramid Scheme?
The G999 coin launched in February 2021 at $0.007 and was shamelessly pumped to $0.02 during the first week. It has since spectacularly crashed to $0.002655 after promises of a $1.00 valuation in the first year. To add insult to injury, they subsequently launched two additional shitcoin tokens (JOne / XLT and LYS) within the same year.
The indicators point to the Gold Standard "insert name here" LTD/AG/PTY/LLC being one big pyramid scheme driven by expert MLM operators.
The G999 "Opportunity" by the Gold Standard Partners
The fantasy is that this is the blockchain that will change the world and revolutionise the way we do things. Email over blockchain, video over blockchain, chat over the blockchain. Decentralised. Metaverse, NFTs. Lydian World. The ecosystem of ecosystems. Tokenized real estate, electric cars and global payment processing. The gold standard partners want you to believe that these are some of the industries that will be powered by GSB and the G999 token.
The reality is that the main method to make money with GSP and all their glorious products is by recruiting other people to join, who in turn recruit other people to join. So as far as I can tell the actual opportunity here is to start your own business (well you think it's a business) in recruitment and earn commission from joining fees.
Main G999 Players or "Gold Standard Partners" of the Gold Standard Bank
Gold Standard Bank Corporation is a bit like a brand, that has many legal entities all over the world. Trying to figure out which legal entity belongs to which part of the brand, where they operate, and which jurisdiction they are regulated by is a full-time job. They do this for good reason as it becomes impossible for a layman to do any due diligence. Therefore, we will refer to Josip Heit (née Curcic) controlled entities collectively as GSB / GSP or Gold Standard Bank / Gold Standard Partners.
Entities or names used by the GS Group
So far there is a multitude of names and descriptions being used. Some are registered companies, others are simply abbreviations or trading names. They are:
The Gold Standard Bank (GSB)
Gold Standard Partners (GSP)
Gold Standard Pay
The Gold Standard Corporation AG
The Gold Standard Bank Corporation AG
Gold Standard Group
Josip Heit (née Curcic) | Who shines when referred to as "Chairman of the Board"
Mr Josip Heit (née Curcic) is a Croatian "businessman" and was the Chairman of Karatbars according to his statements on the Karatbars Marketing videos. We have been unable to find any real operational business linked to Mr Heist, but that could simply be a result of our incompetence. We do however know that Josip Heit has bought control of a publishing entity, which could be responsible for disseminating flattering articles about him and his illustrious career. Josip Heit is currently the head honcho for G999 / Gold Standard Bank.
Tony de Gouveia | "Pyramid Marketing Guru"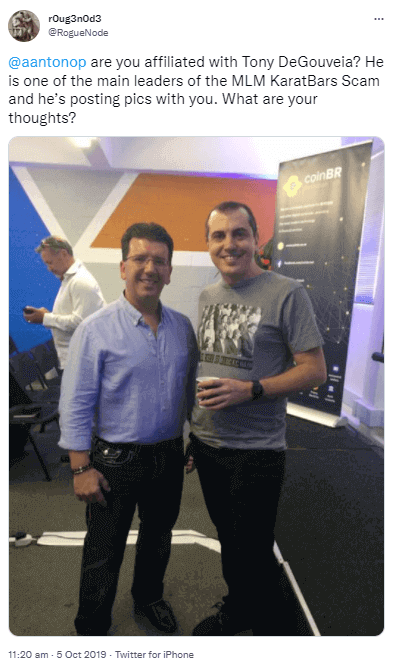 Tony hails from Koppies in the Freestate, South Africa. He appears to have had a prolific career with MLM businesses such as Mannatech, Dragon Mining / Lifestyle Galaxy, Work Your Wealth, GiHugeness, Karatbars and most recently Gold Standard Partners. We have not been able to establish which of these companies/projects are still in operation but have found hundreds of complaints online about them from disgruntled participants.
I guess that Tony attempts to verify his crypto credibility by associating with real crypto experts. He then tries to pass them off as his friends or colleagues. "People in the know with whom he communicates regularly",  according to him. You can watch the full review we did of one of Tony's G999 sales videos here
Brendon Earp-Jones | "Wealth Entrepreneur"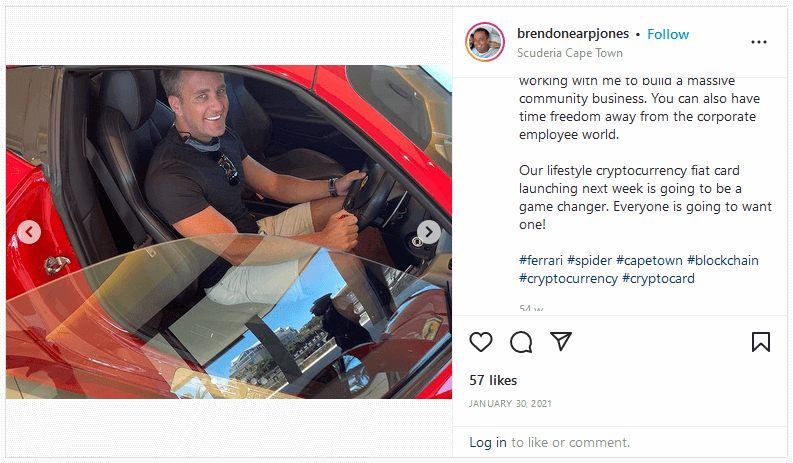 Fast cars and fast women. Fancy house parties and exotic trips. Brendon is the perfect poster boy of a successful lifestyle if his social media posts are anything to go by. This is also one of the main ingredients required for a prolific pyramid marketing operation. For newbies to be awestruck and want to aspire to achieve the same, you have to be able to put on a show. Brendon does this brilliantly. The only discrepancy is that, according to court documents, he only takes home an average of 6 or 7 thousand dollars a month from his exploits with G999. How does he afford this lifestyle then?
Bruce Hughes | "Pastor / Sales Coach"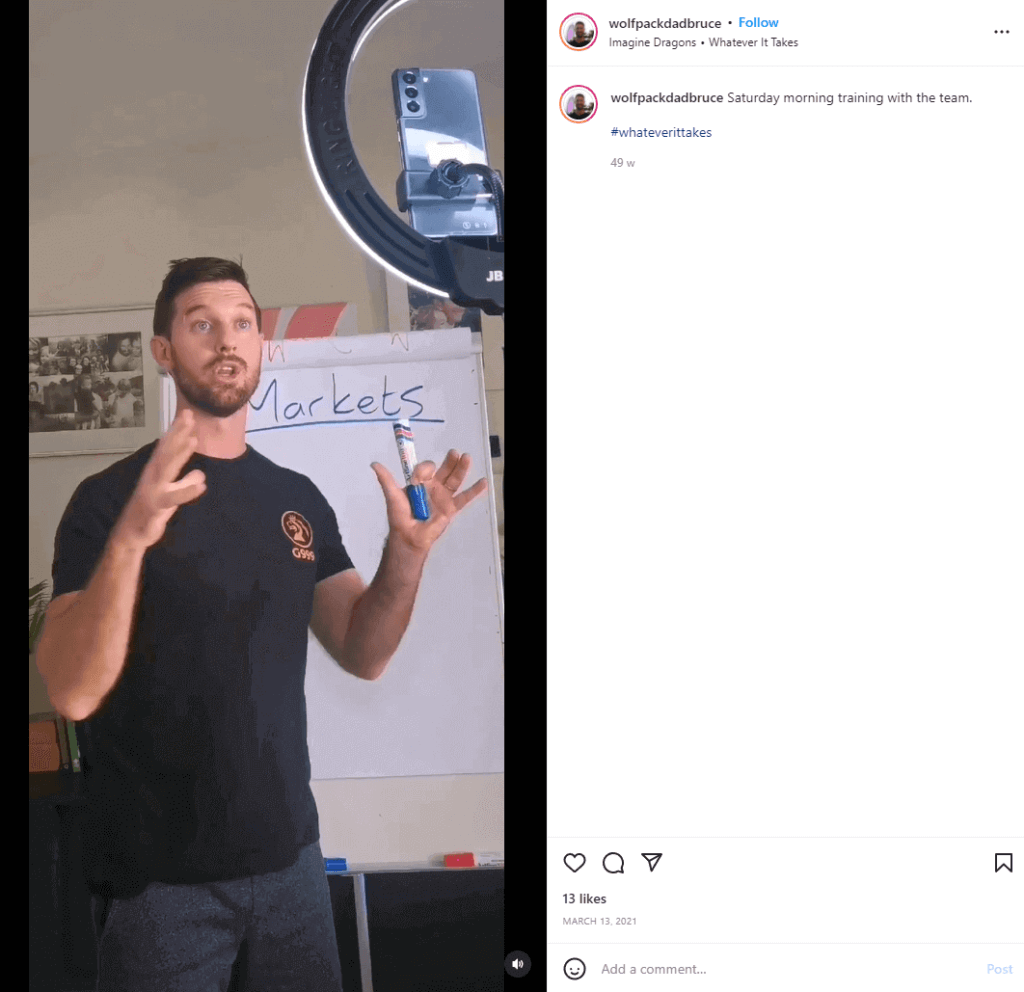 Bruce is an excellent orator and mesmerising storyteller. These qualities make him the perfect salesman. The issue I have is with what he is selling. As far as my knowledge stretches it started with mining contracts, then Karatbars which morphed into G999 and related spinoffs. More recently an unrelated token "Eagonswap". Bruce went from preaching the Gospel to preaching blockchain liturgy sprinkled in amongst multilevel marketing strategies.
This seems to be a common thread amongst pyramid marketing professionals. For some reason, the more successful MLM promotors cut their teeth on the pulpits or the front pew. Part of this can likely be ascribed to the fact that network marketers see their "business" as a religion (read this Josip Heit press release and tell me I'm wrong). Many of their "pitches" will centre around how they want to improve the lives of others (love thy neighbour) or provide people with a way to financial freedom (salvation).
Andrew Eaton | "Bench Player?"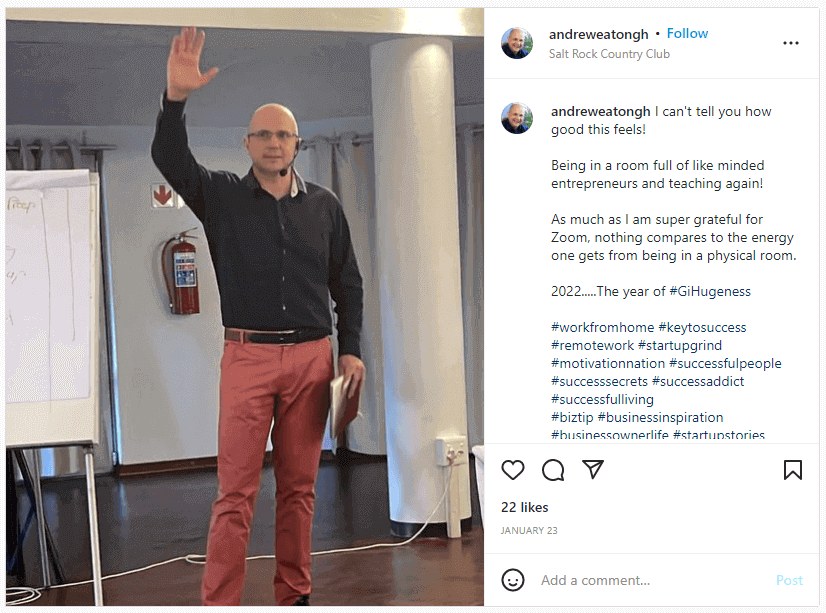 This one is interesting, I was never aware of this guy. I first found out of his existence, when he, Tony, Bruce and GSB started making claims of defamation. I have since learned that Andrew and Tony were drivers of a "direct sales" (pyramid marketing company) GiHugeness in South Africa. Allegedly they were top dogs in the Karatbars pyramid marketing scheme. Andrew has since shifted the directorship responsibility for GiHugeness Pty to his wife.
I don't know much about him and have never met or spoken to him. I know he hosts "wealth creation" presentations in person and online. In terms of work history, he apparently started out as an insurance salesman, and went on to sell browser plugins (which turned out to be an MLM business). He then became involved with crypto mining and recruitment for other pyramid schemes such as Dragon mining, Karatbars and most recently G999.
Michael Dalcoe | "The American Tony"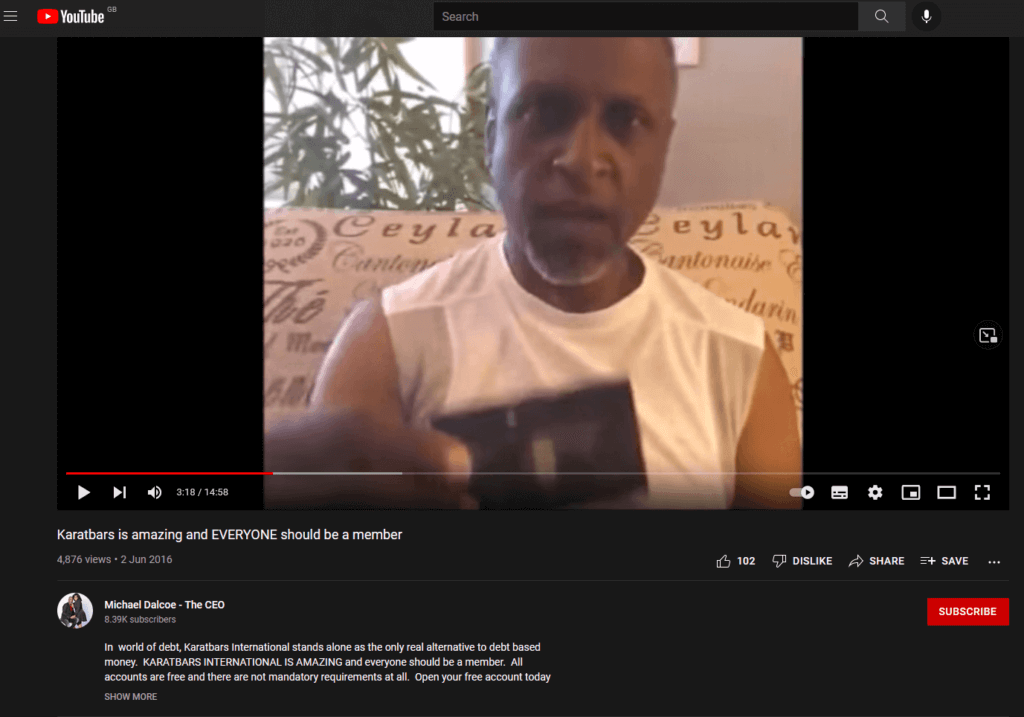 Michael Dalcoe is another ex-Karatbar promotor. He hails from Atlanta, Georgia and appears to be spearheading the G999 pyramid marketing drive in the USA. I became aware of Michael after he, Tony and the Gold Standard Bank sued an American YouTuber, Chris Saunders aka 24kChris of Grit, Grind, Gold for defamation. (This is a standard scare tactic that pyramid marketing experts use. They do this to silence their critics long enough for them to cash in before the scheme is either publicly exposed through mainstream media and the court systems or simply collapses).
Alexandru Cocindau | Chief Technology Officer (CTO) for the GSB Group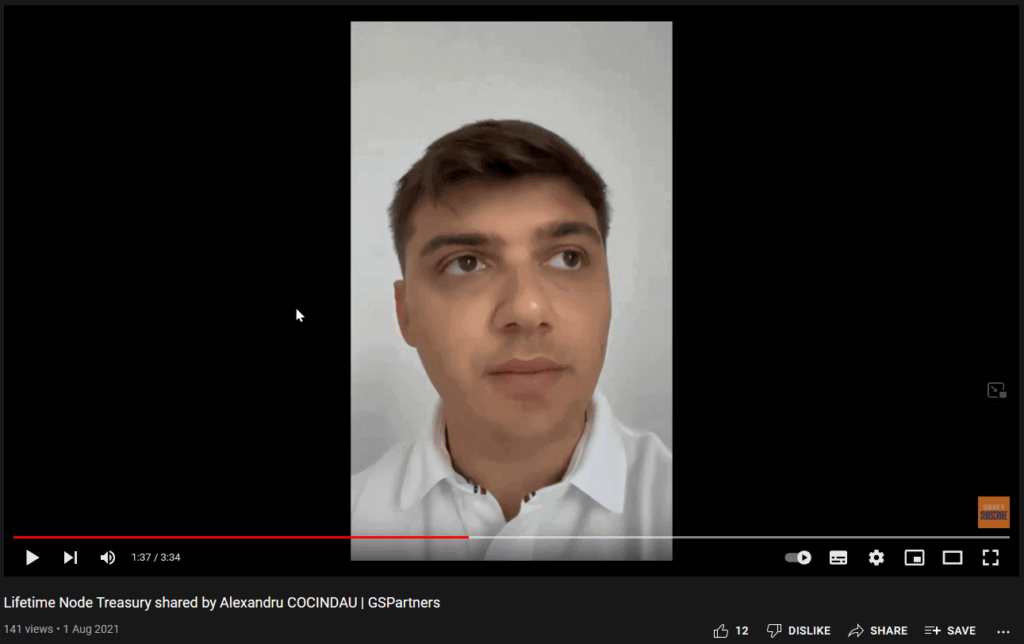 Alex, as he is known online, is Romanian and could be a dolphin swimming with the sharks. I am not convinced that he has anything but good intentions for the project. That, however, doesn't mean it's a good project. My personal opinion is that he is a techy who enjoys building stuff. The fact that the MLM team is selling the "stuff" as life-changing technology when it isn't, probably should bother him. Who knows, maybe it does?
Is it a situation where ultimately they are funding him, and you don't bite the hand that feeds you? He is the main developer of the platform and the main technical support channel. He also seems to be the only technical person publicly working on G999. In fact, I am guessing that the whole GSB technical team could fit in a small hatchback.
Unfortunately, it is my understanding that Alex was also the technical resource of Karatbit, the Karatbars Exchange. This sort of begs the question: Why would you involve yourself so deeply with people who jump from one MLM scheme to the next?
Claims Made by GSB Partners / GSB Corporate / Josip Heit
The Fake Banking License
According to early videos in which Josip appears, and as stated on the website www.gsb.gold the Gold Standard Group has a banking license. This is a result of one of its many subsidiaries, Gold Standard Bank Ltd. being registered in the Comores.
Upon further investigation, it appears that Josip & Co. were scammed. How ironic, right? They ended up buying a shell company registered in the Comores, which according to a Non-Government website shares a banking license. Basically, someone registered a .com domain with GoDaddy. They then created an unofficial website that says: "Register here and we will put your company name on our website and tell people you have a banking license".
As far as we can tell, the Gold Standard Bank was silly enough to do just that. They registered on this website, paid the fee and are now listed as a bank on the Island of Moheli in the Comores. Albeit on a website that has no legal standing to make such claims. Furthermore, no reputable authority anywhere in the world recognises or accepts this "registration".
The Central Bank of Comores Response GSB Licensing Claims
In addition, the official response from the Central Bank of Comores, was somewhat disheartening news to the keyboard warriors fighting the G999 cause online. They said:
GSB Gold Standard Bank LTD does NOT appear in the register of banks, financial intermediaries and specialized financial institutions held with our institution. It has never been approved by the Central Bank of Comoros to practice the banking and financial profession or to offer financial products and securities.

Mwali International Services Authority Register of Companies is a fictitious entity, without any real existence in the territory of the Union of the Comoros. (It) has no legitimacy, no legal basis or authorization allowing it to issue licenses to companies operating in the banking sector and financial.

The Central Bank of Comoros is the one and only authority empowered to do so in the three islands (Anjouan, Moheli and Grande Comores).
Now whether or not Josip & friends knew this license was not recognised by any authority or not, we do not know. Did they really think that it is possible to buy a banking license? Maybe… Either way, many people have confronted the promotors and operators of G999 regarding this banking license. So far only Michael Dalcoe has responded, claiming that you do not need a banking license to operate with crypto…
The G999 AC Cobra
Josip Heit would have everyone believe that GSB has a deal to launch an electric AC Cobra. They even dubbed it the G999 Rapid, and apparently, you will be able to pay with G999 in the future to charge it. Furthermore, neither AC Motor Holdings nor Acedes Ltd (Brooklands Motor Company – UK & AC AutoKraft – US) has any knowledge of this as far as we can establish.
Don't get me wrong I would love to see an AC Cobra EV, I simply can't figure out what expertise the GS Group or anyone involved with it would bring to the table. As for G999 being a transactional currency to pay for EV charging… well that is just ridiculous.
The J One Tower was sold without the owners knowing about it
This appears to be a cockup of GiHugeness proportions. In June 2021, The GSB Group announced its newest offering, the JONE token. This was supposedly going to afford the holders of the token a share in the floor space of the J One Tower in Dubai. The only problem was that the developers of the building, RKM Durar Properties, knew nothing about it.
The GSB team seems to have simply selected a random building and created a token. They then marketed it as being tied to the J-One Tower. They couldn't get much traction as many sites and independent commentators called them out straight away. Even worse, the developers found out and took steps against them to cease their charade.
JONE token was not meant to be, however, this did not stop the Gold Standard Partners from pursuing this course of action and they simply created another token called XLT or the Exclusive Living Token. This time they tied it to the Movenpick Group.
Crypto Watch
Alex announced the G999 crypto watch at their event in Dubai in June 2021. Since the event, I never heard a thing about the watch again. It apparently had breakthrough technology that would make it the first true blockchain watch with actual wallet functionality.
This to me was reminiscent of the Karatbars K1 Impulse phone that was going to change the world. I was reminded of the same razzle-dazzle speeches by Harald Seiz & Co. promoting the K1 as the next big thing – A blockchain phone…
I have not seen and have not been able to find any of these watches for sale, anywhere in the world. Consequently, I am NOT holding my breath on this one.
The GS Group IPO
Josip Heit has been claiming that the "company" (not sure exactly which one he is referring to) and I quote "will make IPO soon, yes you hear it good" since Q3 of 2021. He made further promises that "master resellers" and "certificated resellers" would receive actual shares.
To date (Jan '22) we have not been able to find any notices or any official information from any recognised exchange anywhere in the world regarding the listing of GSB.
The G999 Premiership Football Sponsorship
Josip Heit has repeatedly "announced" that there is big news that will be published imminently since the end of 2021. The promise is that there is some sort of sponsorship deal with a premiership football club. I suspect the purpose of this is to drum up excitement around the G999 brand and somehow legitimise it. How many sponsors do you know of, that can not explain their product or service in a single sentence? I don't know of any!
It might be true, but I am very sceptical…
Aid to Ukraine Crisis
During the Ukraine Crisis, the GSB through Josip Heit and Andrew Eaton attempted to get marketing exposure by pretending that they had sent 60 tons of aid to Ukraine. An internet sleuth burst that bubble by exposing them. Their response was to quickly remove the posts they had hoped would raise their profile. Instead, it highlighted the type of people they are. They were found out. The actual organiser of the aid truck came forward and attested that he was duped.
The reality was that the GSP only donated around 3000 euros via a subsidiary that Heist controls. They basically donated two tanks of water and a bunch of posters according to the organisers. Furthermore, they also placed posters with GSB Logos on the vehicle, which the organisers say, they had to remove twice!
The G999 Products (or rather product descriptions in some instances)
I suppose there are enough product descriptions to warrant a dedicated post which we may do in the future. The problem however is that they come through so rapidly, by the time we think we know what the product or service is trying to be, a new one is announced. For now, we will just update this post.
Email / Video / Chat over Blockchain
GS Partners started out by touting the ability to send video/email & chat over the blockchain as their "game-changing" technology. They promised a whole new way of thinking and interacting with one another. It had one big flaw – Zero use case. Using a blockchain for this type of communication is a really stupid idea, which I can only assume they found out eventually – that is to say, if they believed it themselves to begin with.
How to present the truth in a disingenuous way
The main issue I saw with this promotion was the fact that using their blockchain for this service (that no one needs) was ridiculously expensive. They cleverly used bytes instead of kilobytes or even megabytes (1Mb = 1024 000 bytes) to express the cost of using this platform. The whitepaper suggested a cost of 15 G999 per 999 bytes. This will result in a 250Mb video (about 5 minutes of video) setting you back more than $50k.
Most people (even tech-savvy ones) got caught out by this. No one measures anything in bytes commercially. Well, not since the 1980s at least.
You should also note that even I got it wrong as it was pointed out to me that it's even more expensive. I calculated 1Mb = 1000Kb and not 1024Kb.

As a result of the price totally collapsing a year on, this would be a lot cheaper today (10/03/2022). You will now only have to pay around $13000 to send a 250Mb video – Bargain… NOT.
I have never seen such a strange business model. The cheaper the token, the more usable the system gets (still crazy, but better). However, for that to happen, do investors have to lose money? Why on earth would anyone in their right mind buy this token?
G999 Crypto Debit Card
Technically this is not actually a GSB product even though the promotors will have you think that it is. They simply use a white-label service from NVAYO. That's right, the G999 Crypto Debit card is a crypto debit card from NVAYO. This is why GSB can not make G999 available on their "own" Crypto Card; It is not really theirs and they are simply distributors.
There is nothing wrong or sinister with using a white-label service. The problem is that Tony promotes it as a viable service for South Africans to use. I disagree with his assertion because it is a waste of money for a South African to use it. In my opinion, the only people who would benefit from using such a card would be tax evaders.
Why is it not ideal for South Africans?
If you buy crypto using Rand (ZAR) and then spend it using this card, you are actually spending crypto at the $ rate. Let me explain. If you buy Bitcoin in South Africa, it is roughly 5-7% more expensive due to exchange controls. You now go and spend that crypto on a card that effectively converts the crypto to Dollar (USD) and then the Dollar (USD) to Rand (ZAR). Consequently, you end up losing 5-7% using this process, and then still need to consider the fees on top of that.
It makes no sense. Why wouldn't you just convert the BTC to Rand (ZAR) and spend it using your normal bank card?
The G999 Crypto Card (Hardware Wallet)
I would probably say that to me this is the least offensive offering on the table. I also feel it is the one they promote the least. This is actually a hardware wallet from a company called Tangem. They offer white-label solutions and have a distribution model. GSP simply bought cards from this supplier with their own branding. NOTHING wrong with that – or is there?
I don't like the fact that whenever they do talk about the card (not very often), they talk as if this is a product that is designed and owned by GS Partners, which it clearly is not. They are simply a reseller of someone else's product. Again, I am of the opinion that the real utility is the ability to say: "We are not a pyramid scheme, look we have a product".
The GSB Blockchain Academy
This is a standard technique in pyramid schemes. There is always a back-office system that contains a world of educational content. The problem, however, is that the content is usually outdated or freely available on platforms such as YouTube. The case with GSB Blockchain Academy is no different. It is more than likely just another way of padding out the "eco-system" so that it appears to have real products and services.
The One Coin scam and Bitconnect scam were famed for using this technique.
Masternodes
For you to understand what masternodes are you first need to know what a blockchain is and how consensus mechanisms work. In Bitcoin, the blockchain processes transactions using a consensus mechanism called proof-of-work. Learn more about that here.
In PIVX, which the GS Chain was copied from, the consensus mechanism is proof-of-stake. Proof-of-Stake utilises master nodes (some PoW blockchains have master nodes too) in this case.
A master node is just a server on a decentralized network. It is a consensus community that validates the transactions. Masternodes typically require a sizable investment to run, because of their increased capabilities. This is where the incentives come into play. As a master node operator, you are rewarded by earning portions of block rewards for facilitating the validation of transactions.
Thinking of becoming a GSB Masternode Operator?
You should note that for a master node operator to be profitable you need a high utilisation of the network. You are likely to lose money as a result of the cost of hosting the server on an all-but-dead network like G999.
If interested in becoming an operator yourself, you'll need to "lock away" what's usually a large number of coins and set up a server through which these holdings can do their magic, as it were.
An issue we came across during our review of G999 was that there were 4008 master nodes out of a possible 4000 at the time… You do the math and draw your conclusions.
Lydian World
The Lydian World is a supposed NFT Metaverse project by the GSB Group. Rather, that is what the gold standard partners market it as. In reality, it's a fairly basic website that effectively acts as a pyramid scheme inside a pyramid scheme.
The GSP promote the Lydian world as some sort of game like Axie Infinity. The reality is that you may as well use a spreadsheet to play this game. Ultimately it's a who's who of recruits buying positions and earning off other recruits.
The promotors have been focussing their marketing efforts heavily on Lydian World rather than G999. This is either due to having exhausted their sales pitches for G999, the negative press or simply as a result of the G999 price tanking beyond rescue.
Click Here to read our complete Guide: The Lydian World for Dummies
LYS
LYS or Lydian Staters are the tokens for Lydian World. The tokens are fairly simple "get-it-up-an-running-in-20-minutes" type tokens on the Binance Smartchain. (I have no idea why they are not using their own G999 blockchain – well I do, but I will let you figure that out for yourself).
Let me summarise. The GSPs created this token that was created on the Binance smart chain and is being marketed by the gold standard partners as something that can be "mined" by Lydian world participants. Now I have not joined the G999 blockchain academy so I cannot explain why they are conflating crypto mining with populating spreadsheets…
What makes the LYS tokens a bigger joke than G999 is the obvious manipulation in the market. Even worse than the liquidity providers' wash trading on G999 markets.
If Lydian World and its promotors, LYS has a market cap of more than 1.5 TRILLION DOLLARS. This is not a mistake or a misprint. The gold standard partners will have you believe the Lydian world to effectively be worth more than Apple, Google, Tesla et al.
Let us recap some facts:
As of the beginning of March 2022, there were
just over 370 000 supposed accounts (I'm guessing some people have thousands of accounts)
A single address holds 99.9999% of LYS
around 1700 wallets
Pretty paltry numbers for a project boasting a 1.5 TRILLION DOLLAR market cap.
XLT (Exclusive Living Token)
After Josip Heit realised the JONE token was not going to fly it appears they switched to another token, XLT. This time they tied it to floor space in a Movenpick development. According to well known MLM exposé website BehindMLM, Accor (owners of the Movenpick Hotel Group) also sent the property developer a cease and desist letter when they became aware of the deal.
We do not know if the property developer Richreit Real Estate Development or the broker, Driven Properties, were aware of who exactly they were getting in bed with. Regardless, it seems that this deal has now petered out. I guess that the GSB group will most likely continue to try and tokenize property, or at least appear to be doing it. The reason for this is that it makes a great story to tell prospective recruits. MLM schemes love beating the passive income drum. What better story to tell than one where you own a piece of property in Dubai?
Their latest instalment is a story about G999 Tower which it turns out again to no one's surprise is also someone else's development (SaaS properties)
So which building does the XLT token actually represent, if any? No one but the Gold Standard Bank and Mr Heist knows.
The Law Suits
A typical strategy of multilevel marketing companies, when faced with criticism, is to file a defamation lawsuit. There are two main benefits to doing this.
Firstly, in most cases, the person being sued is not prepared or cannot afford to go to court. Furthermore, they may not want to involve themselves in a drawn-out legal process over a few years. There simply is no incentive, other than working for the greater good, to do so.
Secondly, it gives ammunition to the plaintiffs, in this case, the Gold Standard Bank and Josip Heit. They know that they have an audience that looks up to them. The cult following needs to see them be strong, decisive leaders who do not take prisoners. They use a narrative where they brainwash their followers into believing they will crush their detractors in the courts. Consequently, they do their best to paint a picture that if you are being sued for defamation you are automatically guilty of it.
They do their best to portray their censors as criminals or disgruntled investors. Furthermore, they try an insinuate some sort of collusion amongst their critics when in reality their legal tactics are the reason for most of their critics finding out about each other.
They have proven over and over that they are more intent on attacking the person, rather than refuting any allegation.
They Have Only Threatened Non-Entities so far
To date, I am aware of them pursuing legal action against:
Me (G-CRYPT Channel)
Francois Harris (G-CRYPT Channel)
Louis Nel (G-CRYPT Channel)
Chris McDaniel (ChrisTrade)
Chris Saunders (24kChris | Grit Grind Gold / CryptTalk Nation)
Karl Pearson (various social media platforms)
James du Preez (on a text message / WhatsApp group or something similar)
There has been chatter on some of the Telegram groups that the council want to take legal action against CoinMarketCap. This is because they display the New Zealand Regulator warning against Karatbars International on the G999 page.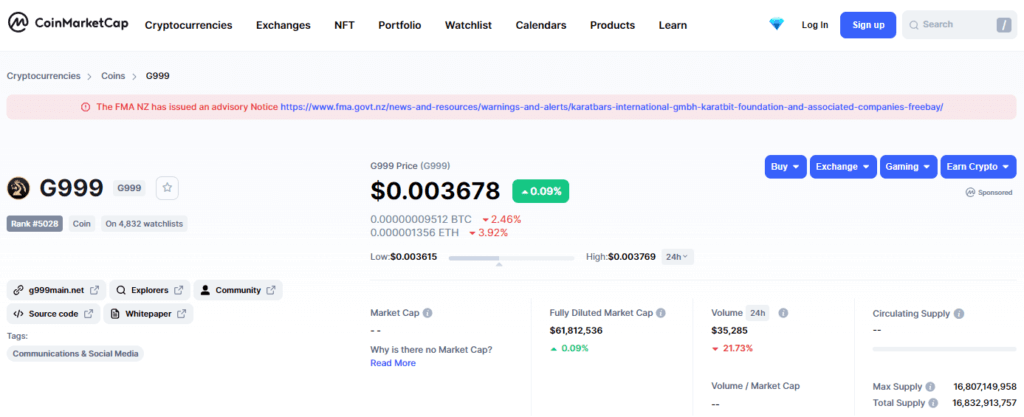 Luno
Luno is a reputable South African exchange(since 2013) with 9 million users and operations in over 40 countries. They block any crypto withdrawals to addresses they recognise as belonging to G999. Furthermore, they send a notification to victims, informing them that G999 is an MLM scam. This will have a direct impact on the number of victims getting caught in G999, yet Josip Heit and Co have not taken any legal action against Luno as far as we know.
Bruce Hughes says that he informed the Karatbars the GSB legal team of Luno's actions.
Could it be that Josip Heit knows he won't scare Luno? Is it possible that this tactic doesn't work when you have to go toe-to-toe with a real company? One that has real investors, real products and real services?
Compensation Plan
When you look at the compensation plan, it is very hard to argue that this is not a pyramid scheme. There are loads of different ways you can earn and there are multiple levels you can reach. They use vague yet highly emotive titles and attach all sorts of bonuses reaching certain levels and goals.
No matter how you approach any pyramid scheme the basic steps are always the same.
You buy a basic package, that gets you in the club
Next, you invite other people to join underneath you, which elevates your position, earnings and offers
You re-invest the money you are making to climb higher in the rankings
Finally, see income streaming in via a "back-office" (basically a spreadsheet-driven front-end that can show whatever numbers the operators want you to see)
They will tell you that it's your fault when you fail to reach your goals. If you get tired of shelling out more money for "packages" they will say you are not committed. Furthermore, they will convince you that you are too negative or did not put enough effort in.
Math is not for everyone in the GS Group
MLM promotors lack many attributes and skills. The biggest of which is the ability to do basic arithmetic. The kind of promises and goals they advocate are almost always impossible to reach in reality. In some cases, there are not even enough people on Earth to support the models and forecasts.
A good example of this is the LYS token, which has the biggest market cap of all cryptocurrencies. Amazingly, it would put Josip Heit and his fellow pyrapreneurs solidly in the first place as the richest people on the planet. The downside is that LYS has almost no liquidity, so the market cap means nothing. It's so ridiculous that very few people even consider the reality of the claims made by MLM promotors.
G999 reward scheme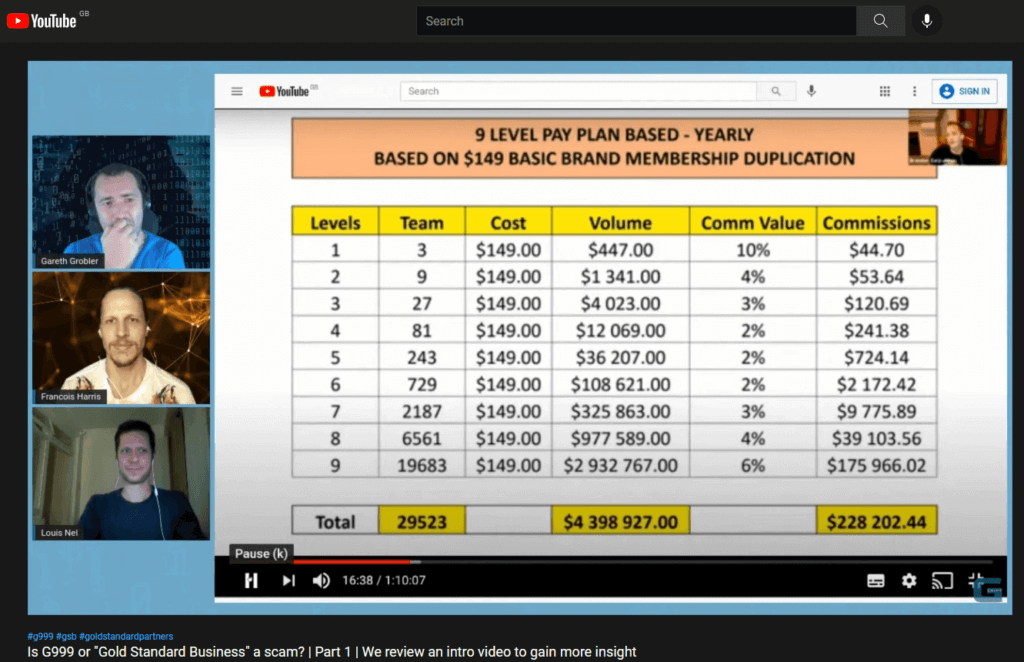 Now let's see what happens if you use this model but recruit 1 person and they do the same. You will earn about $50. You will not even make the money you invested back.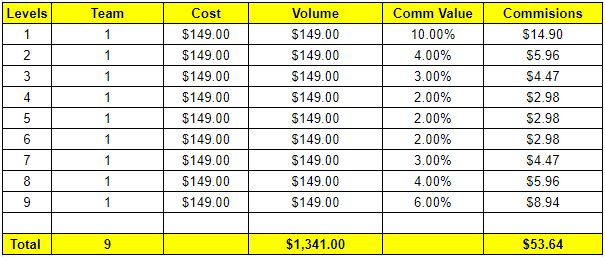 But wait, what if you recruit 10 people and they do the same? Guess what, you stand to earn almost 10 billion dollars. That's right you simply have to recruit 10 people and they have to do the same…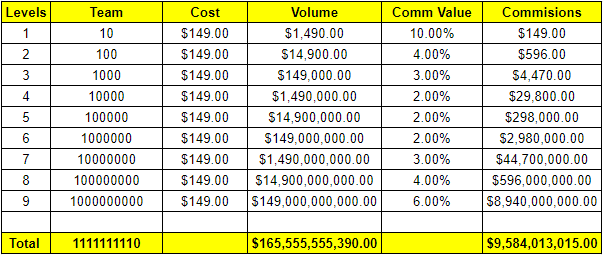 There is one problem though… we don't have enough people on earth to support such a model. One more level and you need more than 10 Billion people.
To simply make your money back you need to recruit 10 people. If you want to make the most modest of income, you have to recruit at least 100 people every month!
The Verdict on G999, the GS Group and Josip Heit
I have no answers, just more questions.
Why does a so-called "leading blockchain technology company" not feature at the main crypto-related trade events or publications?
How come, for a project with such gargantuan claims, is there no real technical presence online (LinkedIn, GitHub, Twitter/Facebook, Discord)?
Why would the head of any legitimate business give as much time and attention as Josip Heit (to the point of creating a dedicated "report them here page"), to non-entities such as myself and others criticizing his project?
What is the real reason for GSB not being able to provide proof of a banking license?
Where is the ownership of the buildings in Dubai, which they claim are to be tokenized, and registered?
Is it time for that watch to make an appearance yet?
What happened to the AC Cobra?
Where is the promised IPO?
Could Josip Heit please explain which premiership football club he is sponsoring before the HAMMER falls?
Why are XLT and LYS tokens on the Binance smart chain and not the glorious technological breakthrough that is the G999 blockchain?
I have my suspicions yet I have no qualifications or standing that allows me to give investment or business advice.
I do however have a Stink-O-Meter that is sounding off like crazy.
Therefore, for me … G – Nein, Nein, Nein…
What is your opinion of G999 / GSB / GSP / XLT / LYS? Please leave your comments below.